Portals are a new World Building in the Heroes of Gaia: Babel expansion which allow heroes to another portal on the world map. Any hero using a Portal will have to wait 10 minutes inside the Portal before being allowed to proceed to the destination. This means that the minimum travel time using a Portal will be 20 minutes.
Portal Tutorial
Edit
Using a Portal is relatively easy. There is no need to actually find a portal on a world map.
Instead, select the target as normal. In the Go to Battle dialog box, note the Set Path drop down which appears in the lower left portion of the Go to Battle window.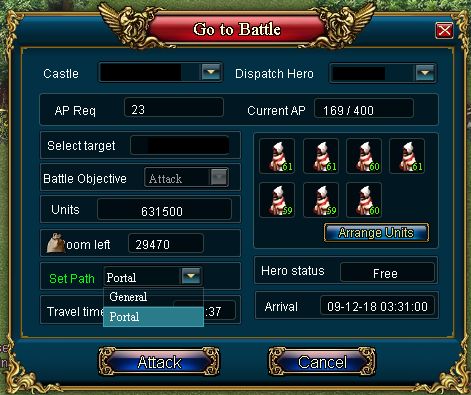 The default Set Path setting is General. Click General and the drop down will appear. Select Portal. The hero will automatically use the nearest Portal to reach the desired destination.
Note: The Portal has a 10 minute delay one way, so add 10 minutes to the time given to the destination on the Travel Time dialogue on the Go to Battle screen.
Time Calculation
Edit
Unfortunately, the supposed travel time isn't very accurate. Sometimes, when two heros supposedly will hit a place at the same time, they actually differ by a few minutes.
See also
Edit
Community content is available under
CC-BY-SA
unless otherwise noted.